Iseki farming toys
Now available at TracPartz! Agricultural toys from Iseki, Kubota and New-Holland. In our range you can find the following toys: Walking mower, walking tractor with trailer, pedal tractor with trailer and a pedal tractor with trailer and front loader. Quickly view the products!
Engine Parts
The engine parts category includes water pumps, pistons and piston rings and cylinder heads for engines. Look further!
TracPartz || Partz to get you back on Trac.
From the sale of tractors, we were increasingly asked whether we could also supply parts. Due to the large size of this market, we started 16 years ago to meet that demand and make the parts available to a large group of tractor owners. Initially for the private market, but we have noticed that the mechanization industry is also increasingly finding us. The knowledge we have comes from the 20 years of experience from our own workshop, which means we have a solution for many. Not only for the part, but also for supporting questions or problems.
Our range of parts has expanded considerably over the past 16 years and so has our sales market. Worldwide there are already thousands of tractors that have been repaired with our parts and will have a whole life to come. Many parts are no longer made due to the "age" of these tractors. We listen carefully to the requests we receive and this gives reason to have these parts produced on commission, and there are already many.
Tracpartz does not sell original branded products unless this is specifically stated for a part. Tracpartz is 100% independent and not affiliated with Kubota, Yanmar, Iseki, Hinomoto, Shibaura, Mitsubishi or any other brand. We use our own, certified suppliers and in this way can guarantee the quality of the products supplied by us.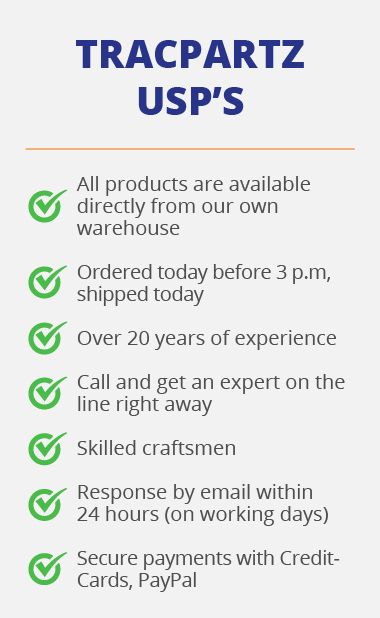 Follow us on social media: